Last summer, Samantha and her family visited Europe for the first time. One of the highlights of that trip definitely was discovering the beautiful South of France. The timing couldn't have been more perfect as lavender fields were in full bloom!
When we chatted about this family photo session, Samantha mentionned they really wanted to capture the sites that show the essence of Provence, and my mission was to make that happen!
Since the family was staying at the gorgeous rental Les Petitons in Oppède, I immediately thought of Oppède Le Vieux. It encompasses all the elements of a typical Provence village: the cobblestones, the narrow streets, the olive trees… so we met there to start our session.
Samantha choose 2 outfits for the family and they both looked lovely! What I love for a family photo session is to have some sort of coordinating without it being too obvious, and she managed to find the right balance. Plus the colors worked perfecty with our backgrounds. The pink tones work really well with the green as they are complementary on the color wheel.
We made sure to get fun family shots as well as some shots of Samantha and her husband Troy and some of the siblings Abby and Drew.
We then went to Les Petitons which is litterally 5 minutes away (or maybe even less!) to change up the decor a little bit. The kids were enjoying picking apricots right from the tree, as well as the swimming pool so we had to include those in our collection of photos!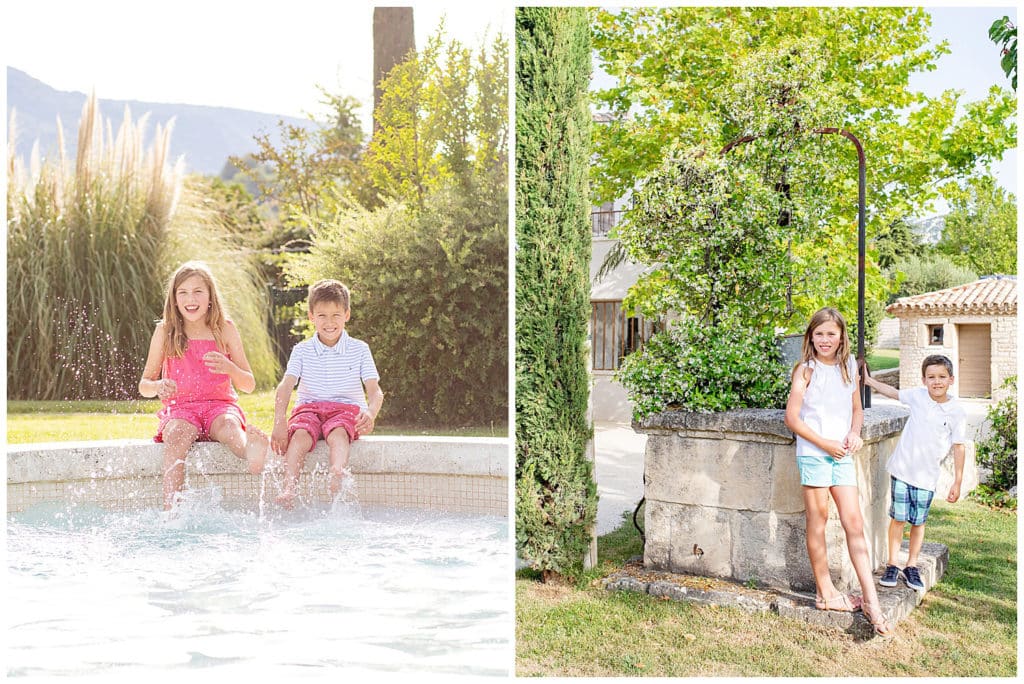 After a quick change at their rental apartment, we did some more photos in the charming garden of the residence.
The mood definitely was relaxed and fun!
For the last part of our photo session, I took the family to a gorgeous lavender field a short drive away. The lavender was in full bloom for the pleasure of the entire family. Abby and Drew definitely had fun frolicking in the smelly purple sea!
We took a few more full family photos, some mother-daughter and father-son shots as well as some singles. Samantha and Troy were celebrating their 15th wedding anniversary so we of course got some romantic photos in lavender too!
There are many other gorgeous locations all over Luberon and Provence that are as picturesque as these ones, for sure. But it was nice to cover such a varierty of locations without loosing time driving far away. I had so much fun with Samantha and her lovely family and I'm glad to help them remember the good times they had in Europe with these photos!
Marie, hello!!
I can't begin to tell you how much we love the photos. You are an amazing artist and I am so glad I found you from across the Atlantic! We made several photo books already and enjoy reliving that time in our lives! Our parents love the photos and mentioned that you did such a great job capturing the love we have for each other and the beauty of Provence. We agree!
Thank you again
Samantha V.
Share this article